Logo Fonts



A Logo Font is a digitized scan of your company logo converted into a True Type Font. They provide a crisp and clear (scalable) re-production that can be used in most any Windows or Mac program. Unlike bitmap graphic files, a True Type Logo Font prints out smoothly at any size and is much smaller in file size. They are easily accessible from your program's font menu.
Use Logo Fonts in popular programs such as:
Microsoft Word
Microsoft Excel
Adobe Acrobat
WinFax Pro
Lotus 1-2-3
Most Windows and Macintosh Programs
Use your Logo Font to:
Use as a professional letter head (save money and print your own!)
Place on business envelopes
Place on business cards
Place on promotional materials and brochures
Place on company invoices
Use with 3D text-based screen savers to have your logo float around your computer screen
Embed your logo into MS Word Docs, Adobe PDF files, and other programs that allow (TTF) font embedding
Logo Fonts are Easy to use:
Select the font name from your program's font menu
Assign any point size (large or small) for a truly scalable signature
Assign any color to your logo (as your program allows)
Type in your pre-selected keyboard strokes to place your logo in your document
Can also be used in most graphics-based programs
Placing Your Order:



To place your Logo Font order, Print Out a Logo Font Order Form, complete the form, attach a copy of your logo*, and then mail or email your form and logo to us.
*Please Note: Pricing for converting your logo to a True Type Font will vary according to the complexity of the logo, the quality and size of the logo you provide us with, and whether or not you want a single-color logo font or a multi-color logo font. Please call us first to discuss the details of your logo and to arrange a price estimate before placing your order.
Installing Your Logo Font:



We include font installation instructions with each order. If you previously purchased a Logo Font and lost your instructions, you can click here for instructions.
Using Your Logo Font:



Using your Logo Font is easy! Select your logo font name from your programs font selection menu and then press the keystroke(s) assigned to your Logo Font.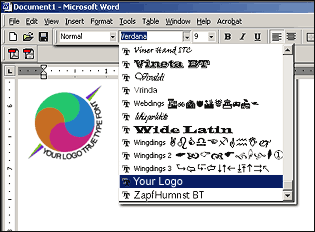 Once you have place your Logo Font into your document, you can drag your mouse cursor across your logo to highlight it, and then assign a point size to make the logo larger or smaller. Since the logo is actually created from mathematically calculated points stored within the font file, you can make your logo any size without losing any quality. You may also change the color of your logo while it is highlighted by using the font color selection tool that is available in most programs.
Signature Fonts   |   Logo Fonts   |   Handwritten Fonts



Order Now   |   Font Samples   |   Return Home